Publish Date: Monday, July 14, 2008
Coordinates: 40° 2.58′ N 105° 18.80′ W
I have no doubt this will be my longest blog entry by far, but I thought some of you might like to know a little about the journey that has us selling our home and cars and moving on to a 43-foot Nordhavn for the next few years. We can't claim temporary insanity — we have actually thought about it for quite a while.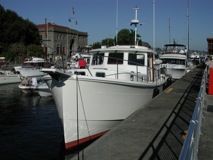 Eight years ago (August 2000) the seed of an idea was planted at the Chittenden Locks in Seattle Washington. While visiting family that summer we took Ayla (3-years-old) to see the salmon ladders at the locks. Dad's attention was quickly distracted by an unusual looking boat going through the locks. Those of you who know and love Dave know that his nature is not to just randomly "visit" with people, but he was so curious about the boat that he struck up a long conversation with the family aboard. The boat was a Kadey-Krogan trawler, and the idea of a family traveling for extended periods of time aboard a power boat was planted. For ages, sailing families have been able to cross oceans assisted by the wind, but the idea of a small power boat being able to cross ocean was relatively new, as they usually couldn't carry enough fuel. However, a new breed of production boat, full displacement trawlers, had been born.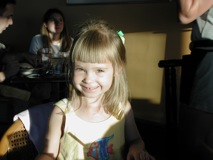 On a completely different theme, we were engaged in the joy and everyday antics of a raising a three old daughter. Her natural curiosity and sense of exploration always inspired us and kept us busy. Dave and I had taken a year and traveled abroad before we got married. Travel and parenting were more similar than you might think, as each day is filled with unknown and often unexpected adventures. While traveling we came across a great quote by Mark Twain, "Travel is fatal to ignorance, prejudice, and narrow-mindedness." Hmmm…what a great gift to give Ayla.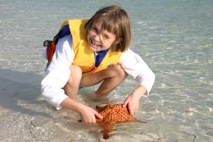 So for the next few years Dave read every copy of PassageMaker magazine (a relatively new publication at that time, dedicated to ocean cruising) along with books like, Honey Let's Get A Boat and Voyage of the Northern Magic. What at first seemed like a passing crazy idea or pipe dream actually started to look like a real possibility if we were willing to commit to some radical changes in our lives. Before we got too carried away, we decided to charter a boat for a week in the Bahamas and see if any of us got horribly sea sick or drove each other crazy in such tight quarters. Our Sea of Abaco adventure (April 2005) was fantastic, from marine-toilet fountains of urine, and a cockroach infested boat, to breathtaking sunsets, and island smiles that make you never want to go home. At the end of the week we would have kept going if we could. We had everything we needed: each other, a GPS, a camera and a deck of cards. We LOVED it!!!
The next step was to spend two weeks in more foreign waters: different language, deeper water, Mediterranean moorings, etc. The following year (July 2006) we went to Greece. The same result: absolute joy even though the voyage was filled with challenges, like completely losing our ability to steer the boat on a very windy day in the Gulf of Hydra, and having to be towed in to an incredibly cramped harbor by a small fishing boat. At the time I felt as if I was going to throw up due to the stress, but later it is those moments that make the tapestry of that voyage so rich. We easily fell into a routine of cruising in the morning, and exploring our new destination in the afternoon and evening. Ayla loved the cats of Greece, the ancient history, and the apple pastries. Her world was expanding through direct experience. The colors, smells and feeling of Greece will always be with her.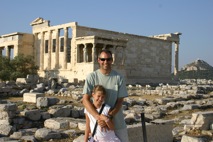 After that trip our vision became clear: to travel with Ayla during her middle school years on a boat that could safely take us any where we wanted to go. So much of world history happened near the water, it would be a great education and adventure. We understood all too well that we only have a few years left with her at home, we plan to savor every moment.
If middle school was the goal, then the date was set: Ayla would complete 5th grade in May 2008. After years of reading, attending Trawlerfests and boat shows, we were pretty sure what boat we wanted. Safety was our number one priority, followed closely by having a company who is committed to supporting their cruising customers. We attended the Annapolis Power Boat show in October 2007 to make our last comparisons and finalize our decision. That trip confirmed what we had known for several years: a Nordhavn trawler would be our boat. It also became clear that unless we won the lottery unexpectedly, the only way to make this dream possible was to sell our home in Boulder, Colorado. Here is where reality versus dreaming kicks in: security and responsibility (owning a home) versus taking the road less traveled. In the end, what made the decision easier is that all three of us shared this dream and were willing to make the trade-offs to achieve it.
I'm sure you've seen the quote by Goethe, "Whatever you can do, or dream you can do, begin it. Boldness has genius, power and magic in it. Begin it now!" We have always loved that quote, but the full context of the quote is even more powerful:
Until one is committed, there is hesitancy, the chance to draw back. Concerning all acts of initiative (and creation), there is one elementary truth, the ignorance of which kills countless ideas and splendid plans: that the moment one definitely commits oneself, then Providence moves too. All sorts of things occur to help one that would never otherwise have occurred. A whole stream of events issues from the decision, raising in one's favor all manner of unforeseen incidents and meetings and material assistance, which no man could have dreamed would have come his way. Whatever you can do, or dream you can do, begin it. Boldness has genius, power, and magic in it. Begin it now!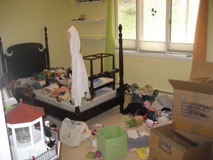 So we took a deep breathe, and decided to go for it. It is hard to truly understand all that needed to happen for this dream to become a reality; from selling our home during the largest mortgage industry melt down in recent history; to qualifying for a boat loan that was almost twice our home mortgage never having owned a boat before; to meeting seemingly impossible stipulations from our lender, and the list goes on …But we believed everyday; and we just tried to "eat that elephant one bite at a time." With the help of real-life angels (Ray, Russ, Joanie, Barb, Bobby) and family and friends who believed in this dream with us, it has all come together. We have successfully sold our home, bought a boat, and moved aboard. One incredible chapter of our lives has closed, and another is just beginning….